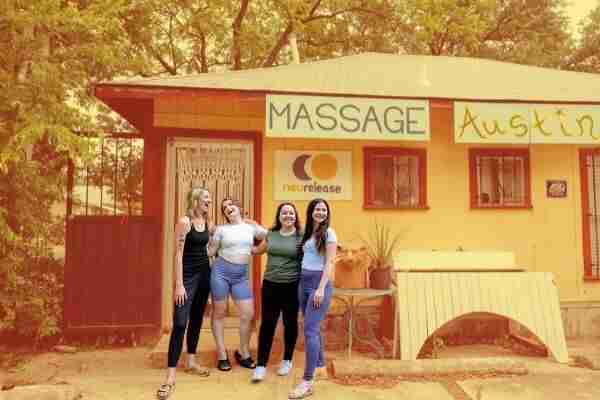 About
Neu Release & Massage Austin
The Home of Deep Release in Austin Texas
Our Office In
South Central Austin
Neu Release is sisters with Massage Austin, in a shared office space with South Austin Chiropractic.
Our team of therapists and the chiropractor all share a cozy bungalow on South First St, old school South Austin style.
Neu Release was founded on a system of deeper, aligned, and connected release experience – to create the space for lasting change. Our novel approach to Sports Massage, Deep Tissue, and Myofascial Release is the next phase in bodywork evolution. 
Creator, Maia Spertus, founded Neu Release to unlock physical limitations and release healthy patterns of movement and feeling through a deep understanding of the body, the nervous system, and the transformative power of aligning dynamic channels of body, energy, and presence.
Our team at Massage Austin consists of experienced and enthusiastic massage therapists! We have a passion for exceptional massage and bodywork, specializing in Swedish and Deep Tissue Massage, with Cupping Therapy for deeper relief.

In addition to busy massage schedules, our entire team trains Neu Release together. With our advanced trainings, Massage Austin therapists can even integrate some degree of Neu Release into your Swedish and Deep Tissue Massages.
Between the differing styles of Neu Release and Massage Austin, you are sure to find the perfect fit for your goals.
Neu Release Foundations is the basis of our stretching cycles and mat-based, massage techniques. Sessions take place fully clothed, on the mat, with the therapist on the ground, using their entire body for massage.

Neu Release Ascensions utilizes the Flow and techniques of Neu Release foundations, with the addition of overhead, harnessed techniques. Our proprietary harness system allows the therapist to deliver gentle kneading using her feet, with deep sinks into tender points. Sessions take place fully clothed, on the mat, with the therapist both on the ground and within the harness system walking out dense leg muscles, with additional back-walking as needed.

Neu Release is a good fit if you love:
Deep Pressure
New Experiences
Cultivating Mindfulness & Breathwork
Swedish &
Deep Tissue Massage
Swedish & Deep Tissue Massage is table based, using oil or cream. This common style of massage adaptable to any and every body type. Long flowing strokes lengthen muscles and create flow within the body. The goal is circulatory flow, release of tension, and general relaxation.
Cupping therapy can be added to any session at Massage Austin, for deeply effective pain relief and workout recovery. Additionally, you can elevate a Swedish & Deep Tissue Massage experience with Hot Stones, Lymphatic Dry Brushing, CBD massage cream, or a Peppermint Scalp Massage.
Swedish & Deep Massage is a Good Fit If You Love:
Light to Deep Pressure
Relaxation
Take Our Quiz
Discover Which Massage Is Right For You
Which Neu Release is best for you?
Neu Release Foundations
Foundations Is Best If:
Goal:
Moderate Tension Release
Maintenance Recovery Care To Feel Your Best

Focus:
Back & Shoulders
Neck

Lifestyle:
Lightly Active to Moderately Active

Body Type:
Leaner Muscle/Smaller Frame
Less than 145 lbs for Women & 165 lbs for Men

Experience:
Limited Experience with Massage & Bodywork

Pressure:
Medium To Deep
Book Neu Release Foundations
Neu Release Ascensions
Ascensions Is Best If:
Goal:
Serious Pain Relief
Deep Recovery Care To Feel Your Best

Focus:
Full Bodied with Emphasis on Lower Back & Hips

Lifestyle:
Moderate to Vigorous Activity Level

Body Type:
More Muscular/Heavier Frame
Greater than 145 lbs for Women & 165 lbs for Men

Experience:
Experience with Massage, Bodywork, Yoga, and/or Meditation

Pressure:
Medium, Deep, Very Deep
Book Neu Release Ascensions
Which Swedish & Deep Tissue at Massage Austin
is best for you ?
How Often Should I Come In?
If your goals are serious pain relief, every 1-2 weeks, until you can gradually conclude our sessions, or continue on a maintenance basis at once a month. For extreme cases, twice a week may be necessary to fix a serious issue.
If your goals are maintenance and wellness, sessions are recommended for every 2-4 weeks – in accordance with your individual training schedule and your response to bodywork.
Prioritize your Recovery with the Monthly pass!
With the Monthly Pass, you sign up for a regular monthly session, at a DISCOUNT monthly rate. Any additional sessions are discounted as well!
The Monthly Pass makes it easy to keep up with your wellness! Book your appointments in house or online, with easy online rescheduling.